Ray Dillard Of Dillard Elongated Coins
What Are Elongated Coins?
Elongated coins are coins that have been elongated (flattened or stretched) and embossed with a new design with the purpose of creating a commemorative or souvenir token. The collecting of elongated coins is a branch of numismatics. Elongated coins can also be categorized as exonumia.
History
The first elongated coins in the United States were created at the World's Columbian Exposition in Chicago, Illinois, held in 1893. Several designs were issued to commemorate the fair, and are available in the elongated coin collecting community today.
The earliest elongated coin designer on record is Charles Damm, who created the design for the elongated coins available at the 1901 Pan American Exposition in Buffalo, New York.
The production of elongated coins can be divided into three general classes, each of which covers a distinct period from 1893 to the present. The first of the three classes are referred to colloquially as "oldies", and were produced mainly for issuance at nationwide fairs like the 1893 Chicago Columbian Exhibition and the 1904 Saint Louis World's Fair. This period started with the issuance of the first elongateds in 1893, and ended with an influx of private rollers around 1965. The second class of elongated coins, the "modern elongateds", cover the years c. 1965 to around 1985. In around 1965, the major source of elongated coins became private rollers, individuals that designed and rolled elongated coins for sale. The major rollers of this period include Dottie Dow, the "House of Elongateds" (Lee Martin/Warren Bunge), Ralph Jones, Ralph W. Jobe, Elmer Anderson, Don Adams, Cee Ceven, and Angelo A. Rosato..
While many private rollers still operate (notables include Raymond W. Dillard, Tyler D. Tyson, Brad Ream, and Don Adams), the vast introduction of commercial elongated machines into the marketplace in around 1985 decreased the demand for private issues. This event marks the beginning of the third class of elongated coins, the "contemporary elongateds" (c. 1985–present). This class of elongateds covers issues that are prominent in amusement parks and attractions throughout the United States, and the world.
Continue reading at the
Source
WikiPedia
Ray Dillard Of Dillard Elongated Coins
@ FUN Convention
Ray Dillard has been involved in designing, creating, and rolling elongated cents for decades. He is a welcome "friend" of the FUN Show. Ray pressed a commemorative souvenir penny for our 2012 FUN Convention in January.
FUN Convention TV had an opportunity to talk with Mr. Dillard about his interest in Elongated cents, as well as discuss the remarkable historical collection of Girl Scout patches and membership materials he acquired and graciously exhibited during the FUN Show. This exhibit was a "hit" with the Girl Scouts who attended the Girl Scout FUN With Money Merit Patch program at FUN!
Tribute to the "Elongated Man" Ray Dillard
What I love about Mr. Dillard and The Hobo Nickel Society is their dedication to the younger generation. Both Mr. Dillard and Rollie Taylor make it a point to involve the young people who attend each FUN convention in the numismatic hobby. At this year's 2012 FUN Show, Mr. Rollie Taylor of the Hobo Nickel Society introduced Young Numismatist, James to Mr. Ray Dillard. James (featured in the video above) rolled his first elongated coin and was educated on the ease of starting an elongated cent collection. After all, a new commemorative elongated coin is rolled by Dillard Coins for the FUN Show each year.
Our video tribute to Ray Dillard also included some photograph's of Mr. Dillard's remarkable historical collection of Girl Scout patches and membership materials he acquired and graciously exhibited during the FUN Show. This exhibit was a "hit" with the Girl Scouts who attended the Girl Scout FUN With Money Merit Patch program at FUN!
_
_
_
_
_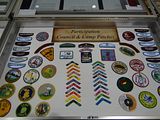 _
_
_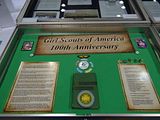 _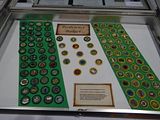 _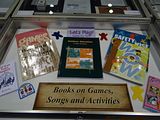 _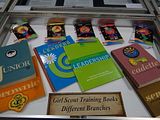 _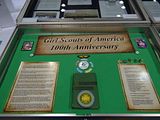 _
_

Click to enlarge
Copyright (c)2012 by Erin Leigh.
Mack Martin's Exhibit At The 2012 FUN Show
The Elongated Coin Man – Ray Dillard
_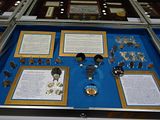 _
_
_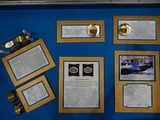 _
_
_
_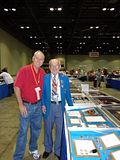 Click to enlarge
Copyright (c)2012 by Erin Leigh.
From The Exhibit Booklet
This is a display designed to share knowledge about elongated coins and some of the conventions and people that promote them. It also shares some information about a person who has produced more than two and one-half million elongated coins. Since 1982, Ray Dillard, "Today's Elongated Coin Man", has enjoyed this hobby and produced elongates for clubs, organizations and friends. This display shows examples of some of the different works and ideas produced by Ray.
Mack Martin won first place in the Miscellaneous division at the 2012 Educational Exhibits.
_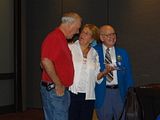 _

Click to enlarge
Copyright (c)2012 by Erin Leigh.
From The Archives
Ray Dillard receives 2009 Merit Award
Ray Dillard receives Merit Award from The Elongated Collector (TEC)
Videographer credit: Les Holbrook.
Mr. Dillard has been involved with
The Elongated Collector Club
since 1987. He has held office many times over the years. His last reign of office ending in 2010 as noted below.
1987 The Elongated Coins Secretary
1989 President
1991 President
1993 President
1995 Vice President
1997 Vice President
1999 President
2001 Treasurer
2003 Treasurer
2005 Treasurer
2007 Treasurer
2009 President
In the video above, Mr. Dillard is called to accept the Merit Award from The Elongated Collector (TEC). The Elongated Collector (TEC) club is a non-profit organization that promotes and educates people about elongated coins. TEC offers a quarterly newsletter in which you receive free coins with each issue. Their website is: www.tecnews.org
What is The Elongated Collectors (TEC)?
The Elongated Collectors is the official collectors organization for elongated coin enthusiasts. Its purpose is to:
1. encourage the study, acquisition, and exhibition of elongates and related items.
2. research and publish articles in TEC News and elsewhere.
3. assist new collectors, especially youth.
4. promote the realistic and consistent valuation of elongates.
Visit
The Elongated Collector Website
View their photo gallery
here
R.J Squishes His 1st Penny
_
_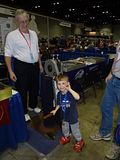 _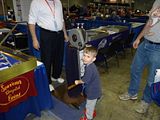 _
_

Click to enlarge
Copyright (c)2012 by Erin Leigh.
You never know what you will see at the Dillard Elongated Coin booth at the FUN Show. I spotted R.J. and his father looking at some elongated coins. Well, honestly what caught my attention were R.J's feet. He was wearing slippers in the shape of Lightning McQueen of Pixar's animated movie "Cars" on the bourse floor. His father said they are his son's favorite foot ware. And he refused to change his shoes before venturing out to the 2012 FUN Convention.
R.J had fun pressing his first elongated coin at this years show while modeling his cool Car slippers for the camera. As you can see he was very proud of his creation, so I decided to memorialize the occasion in photographs. R.J. loved his new squished penny, almost as much as his cool car slippers! Yes, I know my fellow numismatics dislike the term "squished". But, I decided not to argue that point with my new friend R.J. Because squishing pennies was just how he
rolled
elongated his coins that day.
*R.J's father signed my video consent and a star was born. :) R.J. can be seen in the second video "squishing" his penny.
In Related News
Oahu railways honored with EC series
Oahu railways honored with EC series Posted on March 27, 2012 by NMN
The Oahu Railway & Land Company, the Oahu Sugar Company and the Hawaiian Railway are honored in a new set of elongated coins: Series III in the Historic Railroads of Hawaii Series. Continuing reading at the
Source
Numismatic News
Georgia Numismatic Association Coin Show Offers Free Elongated Cent of Gatling Gun
Georgia Numismatic Association Coin Show set for April 27-29 at the Northwest Georgia Trade & Convention Center in Dalton, Ga. Show attendees will receive a free elongated cent featuring the Gatling gun. The elongated cents will be rolled on site by Vicky and Lee Bowser of Alexander, Ariz.
Source
Numismatic News
Elongated marks ANA event
Elongated marks ANA event Posted on September 14, 2009
Michigan's Ray Dillard was on hand at the Los Angeles event wearing his familiar blue sport jacket and with his machine. Dillard's table is a popular stop on the bourse floor in the club area as many attendees take the opportunity to see how the elongateds are made and perhaps even roll one for themselves. Continue reading this article at
Numismatic News
Scouting Elongateds available
Scouting Elongateds available Posted on July 21, 2008
Ray Dillard has made a special cent elongate honoring the Order of the Arrow, the Boy Scouts of America honor camper society. He created it for a National Order of the Arrow Conference that took place in late July on the Michigan State University campus in East Lansing, Mich.
Dillard made four-piece sets of cent, nickel, dime and quarter elongates, in addition to the giveaway cents.
The Order of the Arrow was founded by Dr. E. Urner Goodman and Carroll A. Edson in 1915 and currently has about 176,000 members. Its purpose is to promote camping and recognize those campers who best exemplify the Boy Scout oath and law in their daily lives.
Continue reading this article at
Numismatic News
Is It Legal?
Is it legal?
The process of creating elongated coins is legal in the United States, almost all parts of Japan, South Africa and parts of Europe.
United States
(YES): In the United States, U.S. Code Title 18, Chapter 17, Section 331 prohibits "the mutilation, diminution and falsification of United States coinage." The foregoing statute, however, does not prohibit the mutilation of coins, if the mutilated coins are not used fraudulently, i.e., with the intention of creating counterfeit coinage. Because elongated coins are made mainly as souvenirs, mutilation for this purpose is legal.
Canada
(NO): Section 11(1) of the Currency Act states that "no person shall, except in accordance with a license granted by the Minister [Minister of Finance], melt down, break up or use otherwise than as currency any coin that is current and legal tender in Canada." Furthermore, Section 456 of the Criminal Code of Canada makes it a criminal offense to deface circulation coins: "Every one who: (a)defaces a current coin, or (b)utters a current coin that has been defaced, is guilty of an offense punishable on summary conviction." The offense is not dependent on fraudulent intent.
Hence why in countries where such mutilation is illegal, such as Canada, blank planchets, slugs, or U.S. cents are occasionally used, though this law is often ignored both by the users of the machine and law enforcement. This method is also often used in countries, such as Australia, which no longer has a one cent (or equivalent) coin.
United Kingdom
(YES): It is legal to elongate coins in the UK for the same reasons at it is legal in the US. In the UK, the Coinage Offenses Act of 1936 prohibited the defacement of any current coins. This was repealed in its entirety by the Forgery and Counterfeiting Act of . 1981, thus removing the prohibition on coin defacement.
The Rules On Defacing U.S. Currency
Posted on January 11, 2012 by Alan Herbert
Excerpt From Numismatic NewsYou've mentioned several times that it is legal to make such things as elongated coins and even coin jewelry. But is this true for gold coins?
At one time it was illegal, but current law generally ignores the question of whether or not a coin contains any bullion, the prohibitions centering upon "fraudulent" alteration of the coin. This is why you can see gold coins made into watches or soldered into jewelry. The Secret Service in 1971 announced that it was illegal to mutilate gold, whether soldered, holed, trimmed or altered. However, the ruling did not apply to foreign imports, so it was unworkable.
What was the purpose of the law passed in the early 1900s prohibiting the defacing of coins?
The law was the direct outgrowth of the then-current craze for love tokens. So many coins were being altered that the Treasury decided they needed a law to prohibit the practice, as well as the elongating of coins and making coin jewelry. The law was rescinded in 1909 after most of the activity had stopped.
Source
Numismatic News
Elongated Sites Or Clubs
The Elongated Collectors
If you love elongates, then TEC is the club for you! TEC hosts their annual meeting at the American Numismatic Association's World of Money convention each year. Members are encouraged to gather throughout the year at "mini-meets" in various parts of the country to visit with one another, compare collections, trade duplicates, and go on "squishin' missions.
The Penny Collector
advertises itself as the site for the "serious collector". It offers a listings of machines throughout the country and the world, coins for sale, and information on trading.
Yahoo Elongated Coin Discussion Group
is open to all elongated collectors. You can find new location reports, negotiate trades and ask questions from fellow "list members". This is a great place to keep in touch with other elongated collectors.
U.K. Pennies
is THE site that lists all the Elongated Pennies available in the United Kingdom and around the world. If you're looking for a new elongated collectible. This website can probably tell you where to find it. Their link list is pretty impressive. :)
Thoughts? Share Them Below In Comments
Photograph Attribution And Consent
Attribution
the act of attributing; ascription.
Credit
The ascription or acknowledgment of something as due or properly attributable to a person, institution, etc.
We try to source everything at FUN Forums. Thus why you will find links to other sites where articles, videos and photographs were originally posted, and we encourage you to visit them. Please contact us if you have any concerns regarding our photographs.
PhotographersFred Lake
FUN Staff Photographer: Credit for Fred's work is given under each of his photographs.
Erin Leigh
: Erin's work appears on FUN Forums & FUN Convention TV as a "courtesy" to Florida United Numismatists. Copyright (c)2011 by Erin Leigh. This
work
by
Erin Leigh
is licensed under a
Creative Commons Attribution-NonCommercial-NoDerivs 3.0 Unported License
Photograph(s) may be used within the terms of the license . Although, special arrangements may also be made for photographs. Please list photo attribution (credit) as "Erin Leigh" "FUN Forums" and link attribution to FUN Forums
http://fun-forums.livejournal.com/
Thanks Everyone!
A Note From Your Moderators
Sharing Is Caring.
You don't have to be a member of F.U.N. to comment. Comments are welcome from
everyone
FUN Members, Collectors, Dealers, and Convention Guests (i.e. General Public). Simply take a moment to
register for a LiveJournal Account
LiveJournal also offers you the ability to post and comment using your credentials from other external sites, such as
Google, Facebook, and Twitter.
In addition, to sites that use
OpenID
Members are encouraged to create discussion posts to share Numismatic News. Won't you please share your thoughts and opinions with us.
Utilize Tags
Make "tags" your friend. Do you want to search for something by topic? Click
Tags
to view various topics. Once on the tags page, click the subject that interests you. All posts related to that topic will appear for your reference. There is also a
Directory link list on our Welcome Page
for your easy reference. Everything you wanted to know is right at your fingertips. It is really just that easy. :)
The tags link is located on our
user profile page
. Every offering on
fun_forums
is tagged to make finding articles on a particular topic easier later.
Other helpful hints for posting in this community can be found in the following threads:
Community Rules
F.U.N. Forums Directory
F.U. N. Forums Frequently Asked Questions
Topics of interest should range from upcoming conventions, numismatic laws relating to the industry and/or your latest numismatic discovery. If the topic falls into the realm of "Numismatic News" it can be shared. So please consider giving back to your community by creating a post.
The
fun_forums
community is for fellowship, fun and informational purposes only. It was NOT created for you to direct traffic to your own blog or web site. Therefore, please refrain from posting advertisements for your business. All solicitation postings will be
deleted
from the community.
Disclaimer:
All content found within FUN Forums or FUN Convention TV is presented for informational purposes only. Florida United Numismatists, Inc. makes no guarantee as to the suitability, accuracy, correctness, completeness or validity of any information found on these sites and will not be held liable for any errors, omissions, delays in the information, damages, nor any losses or injuries arising from its display or use. Articles, commentary or opinions are contributed by the participants or author(s) without compensation and they are solely responsible for the content. All information is provided on an as-is basis.
Mark Your Calendars
Be sure to mark your calendar and come see us at the FUN Show!
59th Annual FUN Convention: January 9-12, 2014
Orange County Convention Center West Building Hall WE, Orlando, Florida
8th Annual Summer FUN Convention: July 10-12, 2014
Orange County Convention Center West Building, Hall WE1, Orlando, Florida
60th Annual FUN Convention: January 8-11, 2015
Orange County Convention West Building, Hall WD, Orlando, Florida
9th Annual Summer FUN Convention: July 9-11, 2015
Orange County Convention West Building, Hall WA2, Orlando, Florida
61st Annual FUN Convention: January 7-10, 2016 Tampa Convention Center, Tampa, Florida
62nd Annual FUN Convention: January 5-8, 2017 Tampa Convention Center, Tampa, Florida
63rd Annual FUN Convention: January 4-7, 2018 Tampa Convention Center, Tampa, Florida
You may also

AND

to track updates for
fun_forums
Thanking You In Advance,
♥
fun_forums
Mods ♥