F.U.N Convention TV Interview
With Documentarian John Bennardo
On Two Dollar Bill Documentary








The Two Dollar Bill Documentary




Excerpt From KickStarter Film Page
Feature-length film offers a fun and insightful look at the forgotten son of paper currency.

ABOUT THE FILM

You've had a two dollar bill before, right? What did you do with it? Most people believe them to be unique collector's items, so they save them. The thinking is that they're extremely rare, that they're good luck, or that they're more valuable than they actually are. When cashiers get them, there's always a reaction. When special interest groups want to draw attention to themselves, they'll start a campaign to spend them. Basically, they're treated as anything but the normal pieces of paper currency that they are. Why is this so, and how do the bills really fit into our culture?

Welcome to The Two Dollar Bill Documentary, my feature-length film exploring everything about this unique bill. The genesis of the idea came from my own experiences with them. I've had many curiosities and questions about two dollar bills for many years, and I finally researched it enough to discover just how much there is to share about them. From a history that includes incredible craftsmanship and popularity, to its time where superstitions about the bill ran rampant, to its discontinuation, reinstatement, and limited print runs, all the way to the numerous ways the bill is perceived and used, the film will be a fun and enlightening journey to understand this truly unique item. It's the first and only film of its kind, and you can be a part of it. In fact, I'm asking you to please be a part of it!

Many of you know how Kickstarter works, but if you don't, here's the lowdown: If I don't reach my funding goal, I receive nothing! So I'm asking for your donation - no matter how small - so I can secure the funding I need to make the film the best it can be. Additionally, sharing the news about this project would also be greatly appreciated, so whether you can donate or not, please spread the word so that others can consider making a contribution. As a thank you, I've come up with many great rewards, a chance to preview and give feedback to the film, and even opportunities to appear in the movie itself!

For more information or to just stay in tune with the project, connect with me on the film's Facebook page and/or on Twitter. Share your $2 bill stories, photos and more. But if you make a donation to the film, you'll get even more access through our ongoing Kickstarter updates.
KickStarter $2 Documentary Project



F.U.N Convention TV Interview
With Documentarian John Bennardo



FUN Convention TV had the opportunity to talk with Mr. John Bennardo at the Summer F.U.N show. Mr. Bennardo was roaming F.U.N's bourse floor talking with currency dealers about the forgotten son of paper currency the two dollar bill.

Browsing F.U.N's bourse floor provided John with a wonderful opportunity to gather footage for his upcoming documentary which is currently in production and seeking backers on Kickstarter This film project will only be funded if at least $18,200 is pledged by Saturday Nov 9, 11:31pm EST.



Seems people are fascinated by the two dollar bill. I know my husband inquires about them every time he visits our bank. Oddly, the bank tellers seldom have them in their drawer.

Yes, some people hoard the two dollar bill because of their uniqueness. These days receiving a Two dollar bill in your change is a bit of an oddity. However they remain popular with many collectors. For more information on this film, follow @2dollarbilldoc on Twitter & view photographs and more here



United States Two Dollar Bill



I thought I should supply some factual information on the Two Dollar bill. I opted for this Wiki narration video rather than typing an essay. The facts are the facts right?

United States two-dollar bill Source Wikipedia Wiki Article



The United States two-dollar bill is a current denomination of U.S. currency. The third U.S. President, Thomas Jefferson is featured on the obverse of the note. The reverse features an engraved modified reproduction of the painting The Declaration of Independence by John Trumbull.

The bill was discontinued in 1966 but was reintroduced 10 years later as a potential cost-saving measure. Today, it is seldom seen in circulation, and as a result, the production of the note is the lowest of U.S. banknotes: fewer than 1% of all notes currently produced are $2 bills. This comparative scarcity in circulation, coupled with a lack of public awareness that the bill is still in circulation, has also inspired urban legends and occasionally has created problems for people trying to use the bill to make purchases.

Throughout the $2 bill's pre-1929 life as a large-sized note, it was issued as a United States Note, National Bank Note, Silver Certificate, and Treasury or "Coin" Note. When U.S. currency was changed to its current size, the $2 bill was issued only as a United States Note. After United States Notes were discontinued, the $2 bill later began to be issued as a Federal Reserve Note. They are delivered in stacks of 100, with a green strap.

Rarity

The rarity of a $2 bill can be attributed to its low printing numbers that sharply dropped beginning in the late 1950s when the $2 bill was a United States Note and recently the sporadic printings of still relatively low numbers as a Federal Reserve Note. Lack of public knowledge of the $2 bill further contributes to its rarity. This rarity can lead to a greater tendency to hoard any $2 bills encountered and thus decrease their circulation.



Andy Warhol Autographed Two Dollar Jefferson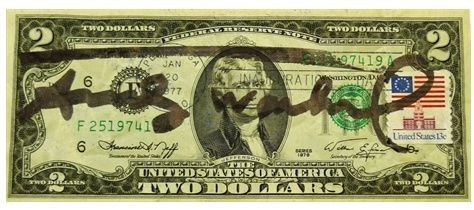 At a auction in 2011 Andy Warhol's signed Two Dollar Bill Sold For US $10,522.00

Auction Description
A VERY RARE PIECE OF WARHOL MAIL ART. Two Dollar "Jefferson" franked at the Philadelphia post office in January, 1977, with a 13 cent stamp affixed to right side. Signed with very full signature in black felt pen. Stamped verso twice with Andy Warhol rubber stamp.

Warhol's interest in two dollar bills as a subject dates to the 1960s when he first used money as a subject for a painting. Recently, Warhol money paintings have increased substantially in value. In November, 2010, Warhol's painting of 200 One Dollar Bills sold for $43,762,500 USD, almost 4 times its high reserve of 12,000,000 USD. If antique gold leaf frame overall size approximately 11 x 13 inches, with double- sided plexiglas to show back of piece.



Superstitions





Click To Enlarge & View/Read



Interesting facts, urban legends, & myths about the Two dollar bill.

Some think the Two dollar bill is unlucky. Some people collect them feeling their value exceeds two dollars.

The Tom Crawl is a phrase often used to describe collectors who actively seek out the two dollar bill from banks and businesses.

Men's clubs often dispense two dollar bills in change to help encourage larger tips.

Stuart Woods wrote a novel called "Two Dollar Bill." One of the major characters made it a point to always tip with two-dollar bills.

Check out what the Urban Dictionary has to say about the Two Dollar Bill

The Two Dollar Bill Not an Urban Myth



Clemson Students Carry On 35-Year-Old Tradition



</a>



The Clemson Two-dollar Tradition

There has been a university tradition, since September 24, 1977, for the school's fans to spend two-dollar bills on trips to away football games. The tradition began when Clemson played against Georgia Tech "for the last time" as Georgia Tech did not wish to travel to Clemson for future football games. Of the seventeen games played between Georgia Tech and Clemson between 1953 and 1977, only once, in 1974, did the Georgia Tech Yellow Jackets come to Memorial Stadium. In Atlanta, Georgia, Clemson fans purchased items with two-dollar bills stamped with "Tiger Paws" to show how they contributed to the local economy, which began the tradition. The tradition became very popular in the 1980s and 1990s, but has waned since then SourceWikipedia

The Buzz On The Clemson Bills
Clemson Students Carry On 35-Year-Old Tradition
Tigers, Yellow Jackets and $2 bills: an odd combination that created a popular Clemson tradition. It is a tradition that students continue to carry on 35 years after the incident that started it.

In 1977, right before Clemson was scheduled to play Georgia Tech, the administration at Georgia Tech said they were going to call off the game. Georgia Tech claimed they needed to pack their schedule with more SEC games. The Tigers v. Yellow Jackets series would come to an end.

However, this breaking of tradition was not going to break the Clemson spirit. As the executive director of IPTAY at the time, George Bennett came up with an idea to show Georgia Tech how important the Clemson game was, especially for Atlanta's economy. It was a simple, yet genius idea — "Let's flood them with $2 bills." Continue Reading At The Source Clemson University Blog

Clemson's $2 bill tradition still going strong
It's as crazy as a $2 bill, but it's been going on for 30 years.

When Clemson fans hit Atlanta for the Chick-fil-A Bowl pitting the Clemson Tigers against the Auburn Tigers on Monday night, those fans will be speaking with their pocket books to let Atlanta know just how much they spend. And the retailers will know. It isn't every day you're handed a $2 bill stamped with a tiger paw. It's the same as it was 30 years ago, said George Bennett, the founder of the $2 bill tradition. Continue Reading Independent Mail



Music & Film Icons Reflected On Two Dollar Bills





_





The Buzz In The Cyber World



A tale of customer service, justice and currency as funny as a $2 bill
PUT YOURSELF in Mike Bolesta's place. On the morning of Feb. 20, he buys a new radio-CD player for his 17-year-old son Christopher's car. He pays the $114 installation charge with 57 crisp new $2 bills, which, when last observed, were still considered legitimate currency in the United States proper. The $2 bills are Bolesta's idea of payment, and his little comic protest, too.
Continue Reading At The Source Baltimore Sun

Why I Pay with Two Dollar Bills by Briggs Armstrong
Then it dawned on me. Why not pay with two-dollar bills? After all, Thomas Jefferson is featured on the two, and as all Jeffersonians and Austrians know, Jefferson had a deep hatred of central banks and inflation. (Not to mention that his vice president shot and killed Hamilton.) What's more, two-dollar bills are something of an oddity. Continue Reading Ron Paul Forums

$2 bill increasing in use and shedding its 'play-money' image
NEW YORK (Reuters) — America's little-used $2 bill, which occasionally turns up in birthday cards and souvenir drawers, is on a roll. From mom-and-pop stores to strip clubs, the bill is shedding its play-money image and turning up in more wallets. In 2005, banks and savings institutions ordered $122 million in $2 notes, according to the Federal Reserve System. That is more than double the average amount ordered from 1991 to 2000.

"We noticed the increase in demand beginning in 2001," says Michael Lambert, an assistant director for bank operations and payment systems at the Federal Reserve. That year, banks ordered $92 million in $2 notes. Ever since, orders have grown.

The $1 bill remains far more popular, even though it's twice as likely to overstuff a wallet.
Continue Reading USA Today

Two Dollar Bill Tracker
This site is dedicated to the history of the $2 bill and upholding the Second Amendment to the Constitution of the United States of America!



Woz's $2 bill sheets


Woz's $2 bill sheets The Engadget Show

Steve Wozniak prints his own pads of $2 bills and spends them. He'll sell you a sheet with 4 bills for $5. Joshua Topolsky investigates this interesting bit of commerce on The Engadget Show.



Steve Wozniak Prints U.S. Two Dollar Bills


Steve Wozniak Prints U.S. Two Dollar Bills On His Own Printer Then Spends Them




Two Dollar Bill Rack City


Two Dollar Bill Rack City - Tyga Parody




Please Print More 2 Dollar Bills


Two Dollar Bills by Casey Neistat




And That's A Wrap!




_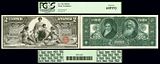 _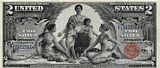 _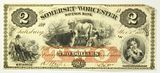 _
_


So after reading and viewing all this information about the two dollar bill. What are your thoughts? Are you a collector?



What's NEW At F.U.N.



Numismatic Crime Investigation Seminar At The 2014 F.U.N Show

Details on the upcoming 2014 F.U.N Member Club Get Together



FUN Convention TV Interviews



Check out FUN Convention TV's interviews with FUN Member Dealers on F.U.N's bourse floor.

Coin Tales From The Bourse Floor Video Interviews

Explore The Bourse Floor Video Interviews



A Note From Your Moderators



Sharing Is Caring. You don't have to be a member of F.U.N. to comment. Comments are welcome from everyone FUN Members, Collectors, Dealers, and Convention Guests (i.e. General Public). Simply take a moment to register for a LiveJournal Account LiveJournal also offers you the ability to post and comment using your credentials from other external sites, such as Google, Facebook, and Twitter. In addition, to sites that use OpenID

Members are encouraged to create discussion posts to share Numismatic News. Won't you please share your thoughts and opinions with us.



Utilize Tags


Make "tags" your friend. Do you want to search for something by topic? Click Tags to view various topics. Once on the tags page, click the subject that interests you. All posts related to that topic will appear for your reference. There is also a Directory link list on our Welcome Page for your easy reference. Everything you wanted to know is right at your fingertips. It is really just that easy. :)

The tags link is located on our user profile page. Every offering on
fun_forums is tagged to make finding articles on a particular topic easier later.

Other helpful hints for posting in this community can be found in the following threads:
Community Rules
F.U.N. Forums Directory
F.U. N. Forums Frequently Asked Questions
Topics of interest should range from upcoming conventions, numismatic laws relating to the industry and/or your latest numismatic discovery. If the topic falls into the realm of "Numismatic News" it can be shared. So please consider giving back to your community by creating a post.

The
fun_forums community is for fellowship, fun and informational purposes only. It was NOT created for you to direct traffic to your own blog or web site. Therefore, please refrain from posting advertisements for your business. All solicitation postings will be deleted from the community.

Disclaimer: All content found within FUN Forums or FUN Convention TV is presented for informational purposes only. Florida United Numismatists, Inc. makes no guarantee as to the suitability, accuracy, correctness, completeness or validity of any information found on these sites and will not be held liable for any errors, omissions, delays in the information, damages, nor any losses or injuries arising from its display or use. Articles, commentary or opinions are contributed by the participants or author(s) without compensation and they are solely responsible for the content. All information is provided on an as-is basis.



Mark Your Calendars



Be sure to mark your calendar and come see us at the FUN Show!

59th Annual FUN Convention: January 9-12, 2014
Orange County Convention Center West Building Hall WE, Orlando, Florida

8th Annual Summer FUN Convention: July 10-12, 2014
Orange County Convention Center West Building, Hall WA1, Orlando, Florida

60th Annual FUN Convention: January 8-11, 2015
Orange County Convention West Building, Hall WD, Orlando, Florida

9th Annual Summer FUN Convention: July 9-11, 2015
Orange County Convention West Building, Hall WA2, Orlando, Florida

61st Annual FUN Convention: January 7-10, 2016 Tampa Convention Center, Tampa, Florida

62nd Annual FUN Convention: January 5-8, 2017 Tampa Convention Center, Tampa, Florida

63rd Annual FUN Convention: January 4-7, 2018 Tampa Convention Center, Tampa, Florida
You may also
AND

to track updates for
fun_forums

Thanking You In Advance,
♥
fun_forums Mods ♥